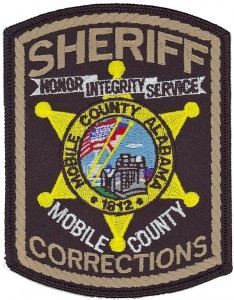 Mobile County Metro Jail at a Glance
The Mobile County Sheriff's Office is responsible for the Mobile County Metro Jail. This facility houses an average of 1,500 inmates per day and is the detention facility not only for the county but for the city of Mobile as well.
Metro Jail includes a main jail facility plus a minimum security barracks, which provides inmate labor to parks, facilities and events across the county. This labor source saves taxpayers more than $1.5 million each year.
The jail provides a comprehensive range of necessary services to inmates, from food and medical services to education and rehabilitative programming.
TO GO THROUGH OUR AUTOMATED SYSTEM AND FIND OUT INFORMATION ABOUT YOUR
LOVED ONE IN JAIL, PLEASE CALL 251-574-6412
TO SEND/RECEIVE MAIL 
All written incoming non-privileged inmate mail must be on a metered postcard  
          NO POSTAGE STAMPS
A metered postcard is defined as rectangular and no larger than "4X6" in
dimensions.
Mail received after the inmate is released from the Mobile County Metro
Jail will be stamped "Return to Sender, No longer here" and will be
returned.
Mail which has been opened and inspected prior to release of the inmate
will be held for three (3) working days after the inmate(s) release from the Mobile
County Metro Jail. If the mail is not picked up within the three (3) working days
from the Money Clerk's Office, it will be discarded on the next working day.
The Mobile County Metro Jail is not obligated nor required to pay
"Postage Due" on any incoming mail. Mail asking of this request will be
rejected or declined.
Incoming mail must have a return address which includes a full name,
street address, city, state, and zip code.
Incoming mail must be addressed to the inmate using full name and
date of birth; if known. Inmates Incoming Mail must be addressed as
follows:
John M. Doe                                                         

145777 Bayou Blvd.

Mobile, Al 36609

Inmate Name (no nicknames); DOB: 01/01/90

Mobile County Metro Jail

P.O. Box 104

Mobile, Alabama 36601

 

 

 

 

 

4"
Mail not addressed as described above will be returned to sender.
Incoming mail must clearly be marked with the senders name and return
address or it will not be delivered to the addressee.
Contraband received through the mail, if not a criminal offense, will be
held for ten (10) calendar days.
The inmate will be notified via written notification of any contraband, not a
criminal offense, violating the Mobile County Metro Jail's Mail
correspondence Policy. The written notification from the Metro Jail's
Room will instruct the inmate(s) to provide a metered stamped envelope
Within ten (10) days and the materials will be returned to the sender.
After ten (10) days, it will be discarded or donated to the jail chaplaincy
Program.
All mail will be searched at an undisclosed location before being passed
out to the inmates.
All mail that is not clearly identified as "legal mail" will be opened and
inspected before delivered to the inmate. Padded envelopes will not be
accepted.
Guidelines to Electronic Photo Approval or Denial for the Mobile County Metro Jail
.                                             NEW VISITATION INFORMATION WITH METRO JAIL.                                                                        
VISITATION VIDEO RULES
ONSITE AND REMOTE
 ALL visits are now registered and scheduled at

https://mobilecountyal.gtlvisitme.com

.  YOU MUST SCHEDULE 
     YOUR OWN APPOINTMENT.
2.  After you complete registration, you will receive an email 
     for confirmation.  If you do not receive email call 
     855-208-7349.  
3.  If you do not have access to computer you may register in
     the lobby of Metro Jail, 450 St. Emmanuel Street, Monday 
     thru Friday, 8:00 - 11:00 am or 2:00 - 5:30 pm Central
     time.
4.  If you would like to register by phone call 855-208-7349.
5.  Once you have registered, you may choose ONSITE or 
     REMOTE.  ONSITE VIDEO (METRO JAIL) IS FREE
6.  ALL visits must be scheduled 1 day in advance, but no 
     more than 7 days in advance.
7.  ALL visitors must be signed in 15 minutes prior to the 
     scheduled visit start time. ONSITE AND REMOTE
8.  Only approved visitors are granted visitation. Visitor's 
     must be on inmate's approved visitation list.  No more    
     than (4) four visitors are allowed per inmate.  NON-
     APPROVED VISITORS USING THE SCHEDULED
     VISIT OF AN APPROVED VISITOR WILL RESULT
     IN THE TERMINATION OF THE VISIT AND 
     PERMANENT SUSPENSION OF THE APPROVED 
     VISITOR'S ACCOUNT.
9.  ALL PERSONAL VIDEO VISITS ARE MONITORED AND 
     RECORDED.
10. FOR ALL QUESTIONS AND ASSISTANCE CALL   
                   855-208-7349                           
PROFESSIONAL VISITATION
ONLY PROFESSIONAL FACE TO FACE VISITS ARE ALLOWED.  ALL OTHERS ARE VIDEO VISITS (listed 
Above).  PROFESSIONAL VISITORS ARE;  CLERGY
MEDICAL, OR LEGAL (ATTORNEY)
VISITATION HOURS
ON-SITE 
Monday - Friday
8:00 - 11:00 am
2:00 - 5:30 pm
REMOTE
7 days a week
8:00 - 11:00 am
2:00 - 5:30 pm
QUESTIONS OR ASSISTANCE
855-208-7349
 MEDICAL INFORMATION
All Medical is contracted through NaphCare, www.naphcare.com.  IF YOU NEED TO SPEAK WITH SOMEONE CONCERNING MEDICAL INFORMATION ABOUT AN INMATE CALL 574-3368 .   Leave a message stating inmate name and your contact information and your message will be returned as soon as possible.
Click here for the Inmate Handbook.
Effective September 01, 2023 the Money Clerks will no longer accept money orders for deposit into inmate trust accounts.
MONEY ORDER LIMIT IS $50.00
INFORMATION TO DEPOSIT MONEY ON INMATE ACCOUNTS
Questions or issues with InmateCanteen.com please email ICCSupport@TKC32M.com for a timely response or use the "need help" chat box on the website. Do not contact the facility.