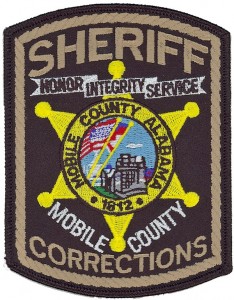 Mobile County Metro Jail at a Glance
The Mobile County Sheriff's Office is responsible for the Mobile County Metro Jail. This facility houses an average of 1,500 inmates per day and is the detention facility not only for the county but for the city of Mobile as well.
Metro Jail includes a main jail facility plus a minimum security barracks, which provides inmate labor to parks, facilities and events across the county. This labor source saves taxpayers more than $1.5 million each year.
The jail provides a comprehensive range of necessary services to inmates, from food and medical services to education and rehabilitative programming.
TO SEND MAIL TO AN INMATE

1.   P. O. Box 104, Mobile, Alabama  36601
2.  NAME and DOB of inmate should be on letter.
3.  MUST HAVE RETURN ADDRESS
VISITATION
METRO JAIL/METRO BARRACKS
ALL VISITATION IS BY APPOINTMENT ONLY AND SHOULD BE MADE ONE WEEK IN ADVANCE.  Visitation times are 8:00 to 11:00 and 2:00 to 5:00.  Call Visitation line, 251-574-4734, to find the correct days to visit.
NO CELL PHONES, PURSES OR BAGS ARE ALLOWED DURING VISITATION, please secure these items prior to arriving for your visit.   WE ARE NOT responsible for any items left in lobby while visiting your loved one.
PROHIBITED CLOTHING FOR VISITATION:
 Halter/Tank/Low cut tops
 Short

Shorts

 See through clothing
 mini or high split skirts
 Tight clothing
 Any Other item deemed inappropriate by Visitation Officer
VISITS MAY BE DENIED OR SUSPENDED AS FOLLOWS:
Emergency Situation
Under the Influence of Drugs and/or Alcohol
Disorderly Conduct
Refusing to submit to a pat search

INTRODUCING OR ATTEMPTING TO INTRODUCE CONTRABAND INTO THE JAIL

Person awaiting trial in

ANY JURISDICTION.

Furlough or Pass from

ANY CORRECTIONAL INSTITUTION.

Released from JAIL or

PRISON

within the

PAST SIX MONTHS
 MEDICAL INFORMATION
All Medical is contracted through NaphCare, www.naphcare.com.  IF YOU NEED TO SPEAK WITH SOMEONE CONCERNING MEDICAL INFORMATION ABOUT AN INMATE CALL 574-3368 .   Leave a message stating inmate name and your contact information and your message will be returned as soon as possible.
Click here for the Inmate Handbook.
MONEY ORDER LIMIT IS $50.00
INFORMATION TO DEPOSIT MONEY ON INMATE ACCOUNTS